Do you want to experience the art of blacksmithing? You have come to the right place!
Rob is one of the few time-served blacksmiths in New Zealand. He loves sharing his passion for blacksmithing and has a deep understanding of forging. Rob has a strong cultural background and teaches with lots of enthusiasm and kiwi humour. The forge is set in a beautiful New Zealand environment.
We run a variety of courses to suit you. The calendar and below options are a guideline of availability, please don' t hesitate to contact us and customise your experience in the forge.
No previous experience is required for any of the classes and there is no minimum age. However, we do require an adult to be present and book in with anyone under 16 either as a participant of the class or a as spectator.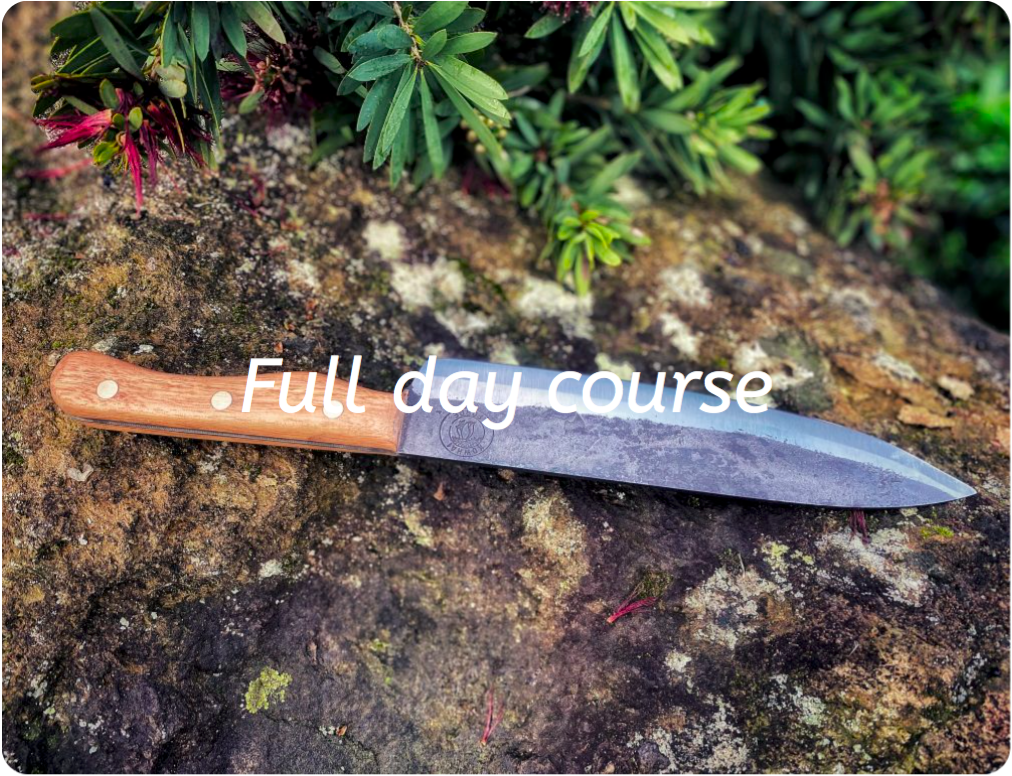 A full day is great for knife making. Several styles are possible such as a hunting/camping or a chef's knife. You will hand forge your knife from scratch (with a little help of course!) and will fit it with a wooden handle. Other fun projects are a door knocker, gardening tools, BBQ tools or how about a tool for your fireplace or pizza oven?
This workshop is for the more 'advanced' projects such as tool making or for those who would like to forge bigger knives or meat cleavers ( 11-14 inches/ 28 – 35 cm).  Choices include things like a full-sized axe (with wooden handle) or a forging hammer. No previous experience is required.
The half-day course is great for those who would like to get a little taste of what blacksmithing is all about. You'll be introduced to some of the basics and will have time for a small hand forged project. Here are some of the things you can choose from: a fire poker, coat hook, herb/pizza knife or a small forged knife (steel handle).
Do I need any prior experience to attend your courses?
You do not need any previous experience or skills, courses are tailored to your ability.
What should I bring to class?
Food and drinks are provided, but your own water bottle might be handy in the workshop! Please wear long trousers (preferably non-flammable materials) and closed shoes. We provide leather aprons, but still be prepared that you may get a bit dirty. We also provide personal safety equipment such as earplugs and safety glasses. Don't forget to bring your camera, so you can take some pictures of your forging experience!
Can my children attend your courses?
Yes! We are kids friendly! However, due to the nature of the activity, your children should be under adult supervision. Therefore we ask for an adult to book in with any person under the age of 16 either as a participant of the class or as a spectator.
What payment options do you have?
You can pay trough our booking system using your PayPal account or credit/debit card (for card payments click the PayPal button, this will launch a new window, where you can scroll down and use the card option).
If you prefer a bank account transfer, you can choose this option in our booking system. However, your spot in the course is not guaranteed until we obtain the payment. Our bank account number is 03 0442 0224466 000.
If you have a voucher, you can use the code in the website booking system. If your voucher code is not working, please contact us and we will make a booking for you manually.
How should I take care of my creation?
Taking care of a knife: do not forget to give it a good rinse before you start using it. You should always immediately dry it after washing and never put it in the dishwasher. They are the biggest enemies of your newly made knife 🙂
Carbon steel is particularly reactive to high acid products. Therefore, it is imperative that you rinse your blade and wipe it dry after cutting anything acidic, such as citrus, tomatoes, and onions. If not rinsed, the acid will begin to corrode the steel and damage your blade.
After washing and drying your knife, we recommend oiling it with a food safe, neutral oil to protect your blade and encourage a slow and even patina. The oil will act as a barrier to help protect against future exposure to moisture and acids.
Taking care of an axe: Protect your axe from rust damage by lightly oiling it after each use. Take a clean, dry rag or paper towel and wipe down the axe head and handle. Now apply linseed oil to the rag and rub down the entire axe. If you do not have linseed oil, just about any non-petroleum oil will work. An axe should never be put away wet.