Do you want to experience the art of blacksmithing? You have come to the right place!
Rob is one of the few time served blacksmiths in New Zealand. He loves sharing his passion for blacksmithing with a strong cultural background and deep understanding of forging. He teaches with lots of enthusiasm and kiwi humor.
The forge is set in a beautiful New Zealand environment.
We run a variety of courses to suit you. The calendar and below options are a guideline of availability, please don' t hesitate to contact us to customise your experience in the forge.
Half day experience in the forge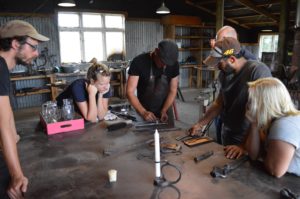 9am – 1pm, morning tea provided
Make a fire poker, a wall hook, handle or let us know in advance an item of your choice to make sure we have the right materials at hand.
NZD 139 per person
Advanced tool making course
9am – 4pm, morning tea and lunch provided
The pinnacle of blacksmithing, make the tools to make the tools! During this one day course we make a tool of your choice.
NZD 299 per person (Includes tool steel and wooden handle)
Full day experience in the forge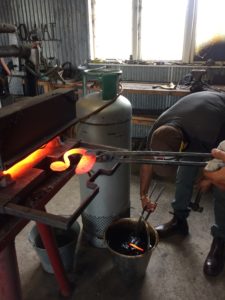 9am -4 pm, morning tea and lunch provided
More time, better projects! The is a range of ideas available (knives, hooks, handles, pokers etc.) but feel free to let us know in advance if you have a specific piece you would like to make.
NZD 249 per person
Team building day
Get hot and sweaty together and forge relationships for groups of friends, families or companies! Suitable for up to 10 people.
As a group you will be working on a piece for you home or office. Think a flower arrangement for the front desk or a wall panel representing your identity.
You will each help making small pieces for the masterpiece.
Please contact us for further information.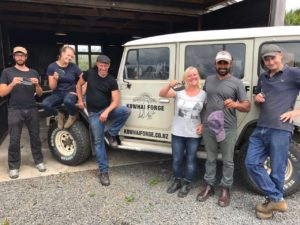 Provided: safety glasses and ear protection
Please bring: long trousers, sturdy shoes (no open toes)
Cancelation policy – refund or change of date is possible when booking is more than 3 weeks away. If the booking is
within 3 weeks
, change of date only is available.
Know someone who might enjoy a blacksmithing course? Surprise them with a Blacksmithing Voucher!
Check the calendar below to book your tickets now
 Days with an Anvil image represent a lesson day